About Us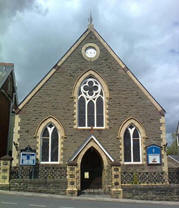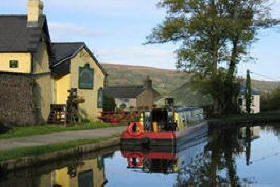 Gilwern Village
Gilwern is a large village of approximately 4,000 inhabitants, situated about four miles from Abergavenny, in the Brecon Beacons National Park. It stands amidst the meadows and woodlands of the Usk Valley between the Sugar Loaf and Blorenge mountains. The A465 Heads of the Valleys road skirts the village, providing excellent transport links to West Wales and England.

Gilwern was once a hub of nineteenth century industry, and is an ideal starting point for exploring the industrial heritage of South Wales. Gilwern is within easy reach of Abergavenny, Crickhowell and Brecon.

The Monmouthshire & Brecon Canal flows through the village giving access to a variety of walks along the canal towpath, the industrial tramroads, and the cycle track which follows the disused railway line from Abergavenny to Brynmawr. Some paths lead through woods and fields to the open moorland on Llangattock Mountain and Gilwern Hill or through the Clydach Gorge, which offers native beechwoods, teeming with wildlife.

Gilwern Church
The church stands in the main street of the village, where there is a range of local shops. The sanctuary within the Church building seats about 120, and the vestry at the rear, about 40 people. A recent kitchen extension now gives a much larger area for formal and informal functions. The church itself is very well maintained and kept in excellent condition.

Over the past few years the Church has developed and grown in many ways, and with constant support and encouragement, we will continue as a church family to share our Christian faith with those in our community and the wider world. The listed membership at Gilwern URC is 22 with about 8 adherents. Average regular attendance at Sunday services is about 25 individuals.

The Church is led by a strong group of Elders who meet regularly to discuss various issues relating to the Church. These Elders are supported by many willing members who help in various ways. We are also fortunate to have two organists.

The Church also relies on an excellent group of local ministers and lay preachers who have now become real friends to us. We also occasionally lead our own services via a willing and dedicated Worship Group.

The local Scout Group has had a long association with the church and attends the annual Remembrance Day and Founders Day services.

Coffee mornings are held fortnightly. It is always good to chat with members, local people and visitors to this beautiful area.

The Church responds generously to fundraising. Christian Aid, Leprosy Mission, and VSO in The Gambia are all very well supported. We have a nominated annual charity for which we hold a variety of special events.

In the last few years, we have made great efforts to build good relationships with churches in our area. Christian Aid Week is well organised to include members from other churches as house to house collectors. Women"s World Day or Prayer, anniversaries and special services and events see us joining together to share in fellowship.